VINEYARDS AND WINE: Biodiversity of our wines (II)
In our previous instalment of VINEYARDS AND WINES we talked about how diversity is the winemaking tradition of the land of the Rioja. To explain this, we relied on the book by Pedro Balda and Fernando Martínez entitled "Minority Vine Varieties in La Rioja". Now we are taking the next step and aim to explain how we express that diversity in our wines.
I. Inter-varietal diversity: LA NAVE
First of all, we are talking about inter-varietal diversity, which is present in LA NAVE insofar as it produces a mixture of typical vine varieties and those typical of the Rioja DOC.
A diversity of varieties with grapes from different areas of the DOC, given that in most cases the plantations are young, less than 35 years old, and each is exclusively of a different variety, as a result of the practice of the Control Board which today, for reasons of traceability, prevents grapes of different varieties from entering the winery on the same journey.
The percentage of vines mixed in LA NAVE, by "coupage", is approximately one third Tempranillo, one third Red Garnacha, and one third Mazuelo, although the precise quantities always depend on the year. The former provides structure, body and colour. The second, red fruits. The third, acidity and colour.

It is a very traditional blend and is therefore a classic Rioja wine, which is made like all our wines in large oak barrels, to prevent the excess wood from altering, hiding or distorting the wine's natural aroma and flavours.
II. Intra-varietal diversity: LAVENTURA
Secondly, we review the different varietal wines of LAVENTURA. These are Tempranillo, Garnacha, Viura and Malvasia. In this case the diversity is of another nature, it is intra-varietal because it is produced within the same variety. In these wines the grapes come from old vines – 35 years old and upwards – which guarantee, on the one hand, the best quality, as a result of their lower yield, and, on the other, a more varied biotype because, given the time of planting the selection of the plants was massale, that is in accordance with the choice of the winegrowers themselves depending on the plant material available – normally the most appreciated one among those at hand -, while more recently such choice is previously tempered by the selection of the nurseryman, who provides the winegrowers with the rootstocks to be planted. These will normally provide more yield, and even more resistance to possible diseases in particular, but at the cost of loss of biodiversity.
In the book already mentioned that we use as a pattern, the varieties of Tempranillo (as a reference variety despite being not a minority), Garnacha (today a minority, although in the seventies of the last century it even surpassed Tempranillo) and Malvasia are discussed. Viura should not be a minority and has not been chosen to be included as a reference for white wines, so we will have to resort to other elements of comparison.
Let us leave aside the origins, background and morphological characteristics of the vines, so as not to lengthen these notes too much, and focus on the respective oenological characteristics.
1. TEMPRANILLO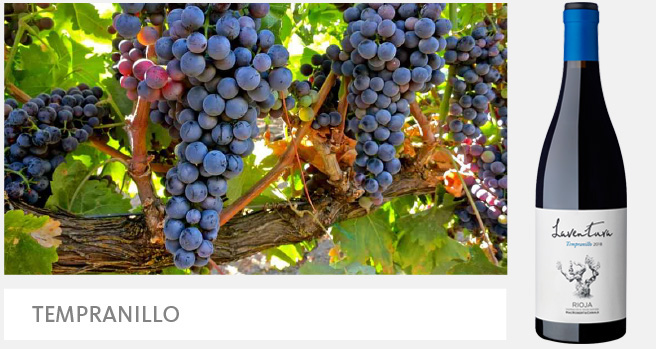 We are told that this variety prefers cool areas, as in situations of water stress it can lose its leaf. Quality wines usually result from low yields. It produces structured wines, with remarkable tannins, intense colour, high alcohol content, ph tending to increase and low acidity level that improves in fresh areas; in these areas the wines are very balanced, with structure and length. In warm areas, their tannins are exacerbated and the wines are shorter and unbalanced.
The above-mentioned characteristics may reveal the growing success of this variety in Rioja. It is very balanced in all respects and tolerates high yields well. It is like the average. It blends in very well and welcomes what the other varieties can bring to it.
In our opinion, its treatment as a varietal requires careful control of production. Better still, the higher clayey soils – preferably facing the sun to the east or north -, which guarantee freshness, and consequently acidity, the presence of red fruits, and more delicate and expressive tannins. It goes without saying that the yield cannot be forced. On the contrary, we measure the load of grapes very carefully, thus controlling water stress, depending on the power of the vine itself.
To do this we use old vines – old age is also a guarantee of a suitable biotype, as we explained earlier – which we look for in high areas throughout the designation of origin. In cold years, it is possible to blend with those from lower areas to provide balance. We pay special attention to the organic control of production and processing. Staying in large barrels guarantees that their natural properties are not disfigured.
2. GARNACHA (tinta)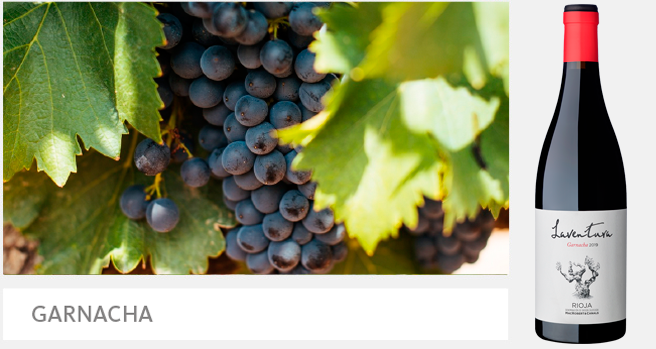 The pattern of this variety given in the reference book seems to make it complementary to the previous one: it is resistant, although sensitive to Botrytis or rot, it bears water stress better, and it is less plastic than Tempranillo, so that the higher yield is followed by the proportional decrease of its attributes and the increase of its oxidative character. Its acidity is also higher than that of Tempranillo, while its pH is lower (it seems that the Rioja Alta or upper and the Rioja Oriental, when it was a Rioja Baja or lower, gave each other a complementary hand).
The wine stands out for the vivacity of its tones and aromatic intensity with very characteristic notes of red fruits. In the mouth it is a soft variety, with little tannin and very pleasant. Globally, the best expression of Garnacha is usually found in cool areas and poor soils, where more structured wines with a lot of personality are produced.
Our Garnacha respects these parameters on principle. It comes from high areas and old vines from all over the designation, they are generally bush-trained vines, which fits in very well with the variety, as it grows very vertically, so that production control is guaranteed and the wine responds to what is expected: red fruits, grassy nuances of scrubland, light, without excess alcohol, good acidity, subtle complexity and elegance. Extremely pleasant because it is transparent as it reflects very well the climate, terroir and work with which it has been developed, and extremely pleasant also for the one who drinks it.
The barrels in which it is kept are also large, 600 litres, so as not to interfere with its natural properties.
3. MALVASÍA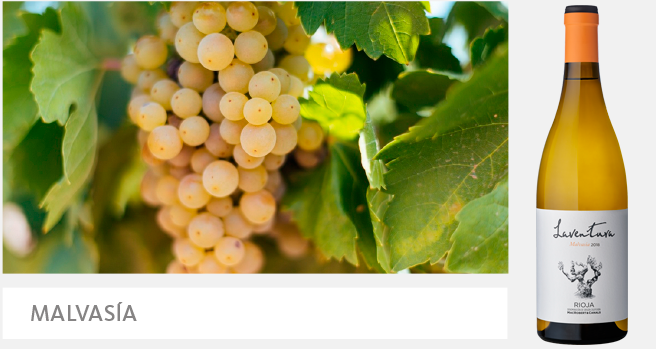 Although it is known as "Malvasia de Rioja", in reality it has little to do with the Malvasia that can be found in many other regions (up to 9 different varieties), as our reference book tells us. The capital name of our variety is Alarije.
Our book goes on to tell us that it is a very productive variety, with very compact bunches, and therefore prone to rot. This is why it tended to be planted in the "headlands" of the plots, where the slope is steeper, the depth of the soil is shallower and the vigour of the vines is very limited. As for its characteristics, he adds that it produces wines with low pH, good acidity and alcohol content suitable for making white wines. When it comes from poor soils, these are fatty, sweet, and balanced by a good acidity, not too aromatic; when it comes from fertile soils, it becomes a very light variety, acid and with herbaceous and citrus aromas, suitable only for the production of young wines for quick consumption.
Our Malvasia comes from vineyards with limestone soils in the higher areas of the designation of origin. It is macerated for 24 hours in its own skins, which allows the must to be impregnated with aromas and tannins and protects the wine from oxidation. It sounds paradoxical, but rapid and controlled oxidation in must protects the wine from oxidation in wine, or, as it is commonly said, better to oxidise the must on the lees in contact with the skins than to oxidise the wine. This is helped by the fact that it is kept in an oval-shaped concrete tank – literally a "concrete egg" – which contributes to better lees circulation and thus combats oxidation. The result is a complex, powerful and extraordinarily gastronomic wine.
4. VIURA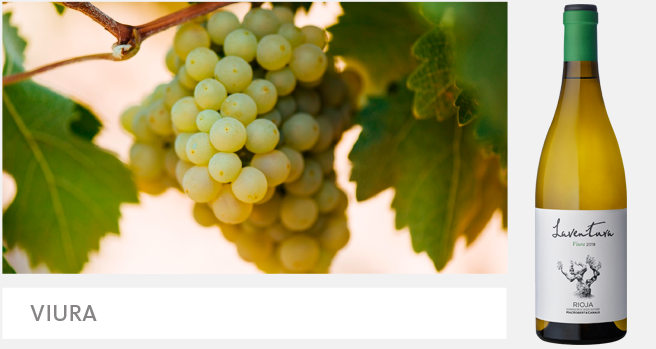 As we have already said, our book does not give us a pattern for Viura, as it does not consider it to be a minority grape. José Peñín, in his book published in 1989, "The Great Book of Rioja Wines", tells us that for a long time wines of this variety used to be subjected to prolonged ageing in oak, given the slowness of their oxidative evolution. However, in line with new trends that call for the presence of fruit, this method of winemaking has been modified and has shown enormous possibilities that translate into considerable aromatic and fruity potential. The wines are pale in colour and have perfect acidity (which allows them to be sometimes added to Tempranillo and even to rosé wines). Incidentally, we mention this book because at some point we will have to dedicate a special instalment to it and observe how much things have changed in thirty or so years.
We can highlight that our varietal avoids the cloying of Verdejo or Sauvignon Blanc. It is born very timidly and its ageing capacity is surprising. Its initial citrus aromas gradually transform in the bottle into aromas of fruit such as pear, apple and peach, gradually gaining in complexity and personality. Extraordinarily pleasant to drink.
Fermented in large barrels in which it is aged on its lees for a year, gaining in body and length, without an excess of wood drowning out the fruit and delicacy of the wine.
Finally, for now, we will refer to EL BARRANCO DEL SAN GINÉS, where both intra-varietal and inter-varietal biodiversity is materialised, because given the age of the plantation, more than eighty years old, we find in it intermingled vines of different varieties -specifically: tempranillo, garnacha, graciano, mazuelo and viura-, in the way that later, as we have said, was restricted by the Regulatory Council of the DOCa.
The "terroirists" would find in this vineyard all the strength of their arguments.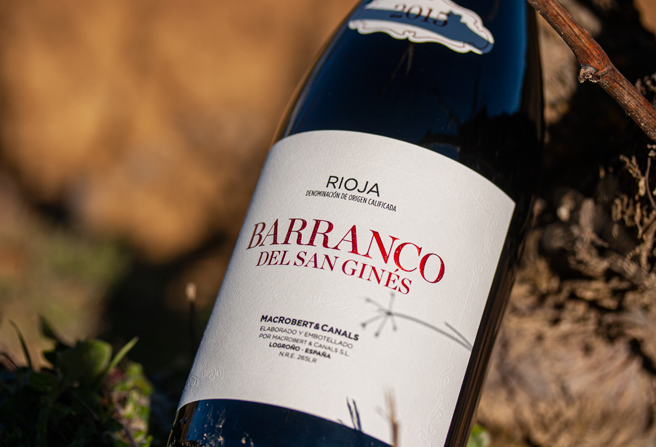 Because all this biodiversity is gathered in a unique vineyard –viñedo singular– in the upper part of Laguardia, relatively close to the mountains, which guarantees a cool and protected climate, sloping down towards the ravine, facing east, which reduces the heat of the west in summer. The soil is clayey, with a shallow sandstone surface layer. Some five thousand vines planted in a 1.40 metre wide square -suitable for animal-drawn ploughing and hoeing-, so that the yield is obtained by the accumulation of vines -rainfall being the other variable to be taken into consideration-, without the possibility of forcing the production of each one of these vines.
And thus, the wine responds to that sum of soil, plant mass, climate and work. It is difficult to categorise, with a marked personality, elegant structure, overflowing with finesse, and many layers of fruit, many flavours, much terroir.
https://www.macrobertandcanals.com/larioja/wp-content/uploads/2020/12/biodiversidad-vinos-macrobert.png
573
709
Maria / administradora
https://www.macrobertandcanals.com/larioja/wp-content/uploads/2021/03/logo_vinoslarioja.png
Maria / administradora
2020-12-20 09:00:16
2021-07-26 11:32:00
VINEYARDS AND WINE: Biodiversity of our wines (II)